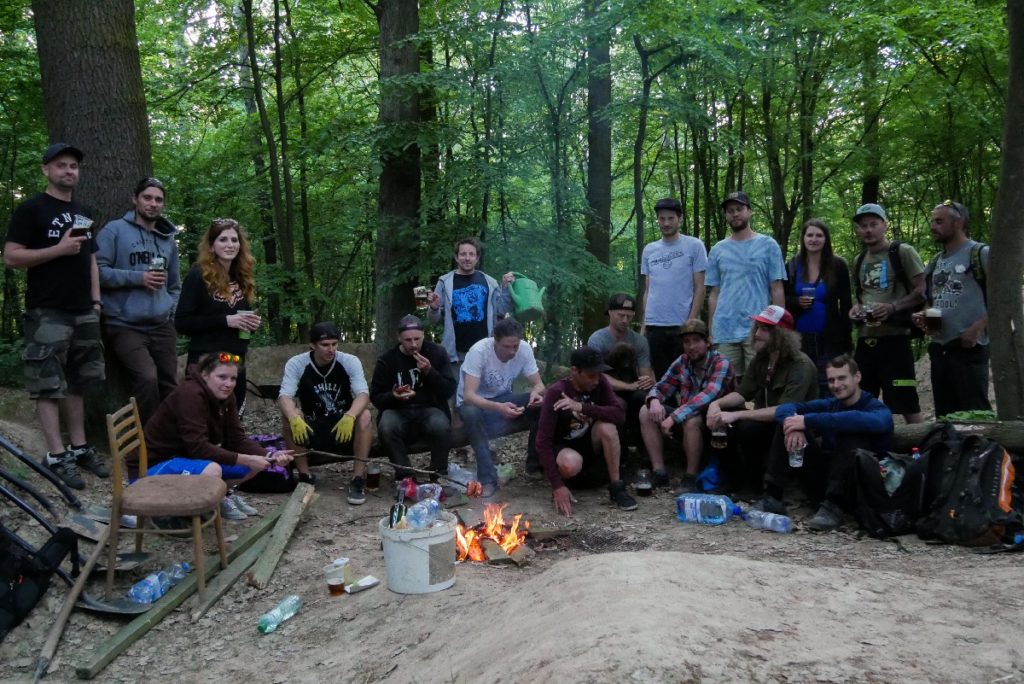 V sobotu 5.5.2018 jsme se sešli v lese, abychom dodatečně jaro přivítali. Dříve nám to nevyšlo, ale lépe pozdě než vůbec, tahle tradice k lesu patří a byla by škoda ji neudělat. Program vždy klasický, zahrabat studánku, narazit, digovat, radovat se, zevlit, trochu se projet a večer se někde dorazit. Tento scénář je víceméně každoroční a ani tentokrát tomu nebylo jinak. Sešlo se nás možná o něco méně než obvykle, z přespolních v podstatě jen Mlaďák a Fish, ale co dobře nám bylo. Sud Paky chutnal a vypil se, Dick lajna je téměř nahozená a ledacos šejpnutý, zlehka jsme se svezli, večerní srandy a demence u Šuků, dobrý to bylo. Jediná skvrna za vydařeným dnem je Mlaďák a jeho kolo, klasický kalba pech, který se na Mlaďáka čas od času nalepí, neuděláš nic. Takže hledá se Mlaďáka kolo, více info je prý na FB, dejte vědět kdyby něco.
Starý lesní lajny stále leží v prachu, do půlky je WC, levá nic, navíc jsme rozjezd shodili, takže vůbec nic, kus je šejpnuto od Duda na Bordelu. Jede jen Baby a Emo, to jede vždycky. Zkrátka ještě se bude muset máknout, aby se mohlo jezdit. Ale ten Dick, vypadá to sakra dobře a zároveň se taky může stát, že budeme půlku přehazovat, protože to nepůjde, ha. Uvidíme. Díky čau, zase příště.
Tady galerka od Zdendy TV, díky za to, jsou tam popisky u fotek, když klinete na info (i), nevím proč tenhle galerka plugin nemá klasický popisky. Holmesi?