Je to jen můj dojem, pocit, názor, současné fbmx se těžce rozštěpilo. Na jednu stranu škoda, na druhou dobře, protože to pravé původní bmx stále dýchá a z toho mám radost. Kdo z vás ví, že se jezdí nějaké FISE, kolik se jich letos jelo, kdo to vyhrál a kolik saltmortále nesmysltailwhipů k tomu musel vítěz dát? Ha, asi skoro nikdo. A přesto to je to ofiko fbmx pro ten nejširší mainstream, olympijský SPORT, SPORT kámo. Gymnastika na kole. A protože to je tak daleko od původního fbmx, že už to samo fbmx nemohlo vydržet, slušně se rozjela alternativa se svou komerčnější stranou mince (Vans Pro Cup) a punkovější stranou mince (Swampfest, Crandallův DIY World Championships a jiné). A vedle toho tu je ještě obrovská zhulená streetová scéna a taky maličká underground trails scéna.. Zajímavé to je. Fakt je ten, že ta trik-machine-gymnastika ač zůstala hodně bokem (od původního bmx) a stále se vzdaluje, drží si své příznivce, pravděpodobně díky masivní mediální masáži, za kterou stojí tvrdý a nesmlouvavý korporát v čele s energy sračkama, kterým jde "samozřejmě" o bmx na prvním místě, jak jinak. Ať tak či tak, mám radost z toho, že existuje nemalá bmx komunita, která dává finger FISE a jiným nesmyslům včetně Olympics, že dělá Milevsko jam, že žije Řáholec, že se rozjela spousta malých a dobrých DIY parkových jamů u nás v čele s Pejdovým jamem v Litomyšli, že si ta štrýtová scéna jede svoje, na všechno sere a baví jí to. Bmx stále žije. A to je dobře. Celé bych to podtrhnul a dodal tohle, pod to bych se podepsal. Darrin Read:
"First off, Im a salty old bmxer who grew up racing and riding trails. It just bums me out that kids don't take advantage of being able to ride on dirt and other surfaces skateboards can't and only dream of being able too. We need to stick to our roots and ride more MX'ish in the BMX, you can't tell me new school kids would still be filming "skaterish" lines if they had flowed through some big trails in the woods with all their best homies. The overall outlook on bmx changes when your blasting through some trails all sideways landing perfect and keep going till the end of the line. Get fuckin brapp'd! Don't get me wrong I have the up most respect for modern street riders, really anyone who uses bmx as a creative outlet! I get so stoked when I see a young kid who's flowin the skatepark, not worried about tricks or anything but keeping his speed. Hopefully one of the kids in this picture got influenced like I did as a kid and realized how they are gonna ride bmx! Ride fast, boost, tricks are for kids…..style is forever!"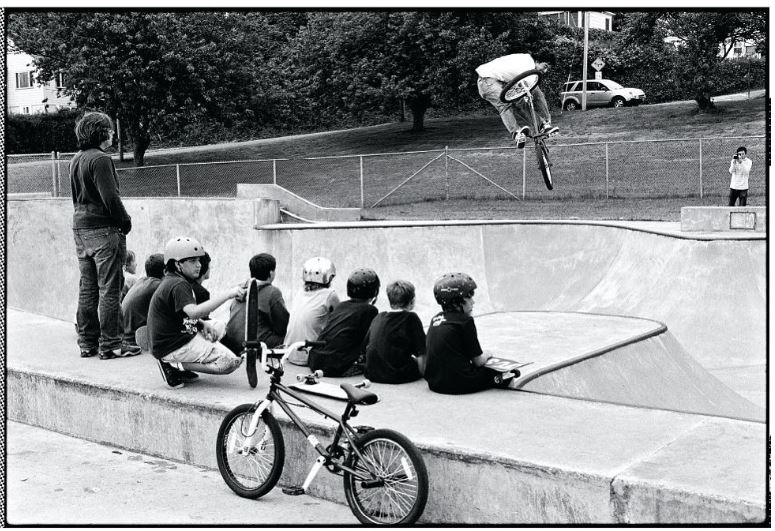 K tomu ještě jedna věc. Máme tu pořád spoustu rádoby Beranů a jiných čertů, kteří chtějí glory, sponzory, potřebují strašně sport a závody, drtí pořád stejný triky jak o život. Vedle toho štrýtová scéna obrovská, přičemž to ovšem není scéna (čest výjimkám), jako byl/je Corey Martinez, Dak Roche, Sexton, Homan, Hoder a další, kteří zabíjí všechno a všude včetně poletů a stylu, když na to přijde. Ptám se, kam se podělo to MX z bmx? Kdysi jsme se tlemili Live Style partě, jak se strašně snaží kopírovat Hawka, Aitkena a já nevím koho, byli to děti a kašpaři, ale zároveň se snažili jezdit stylově a lítat.. Kde jsou dneska děti jedoucí na rychlost a styl, tak kde, ptám se? Tricks are for kids, style forever. Yes jou.