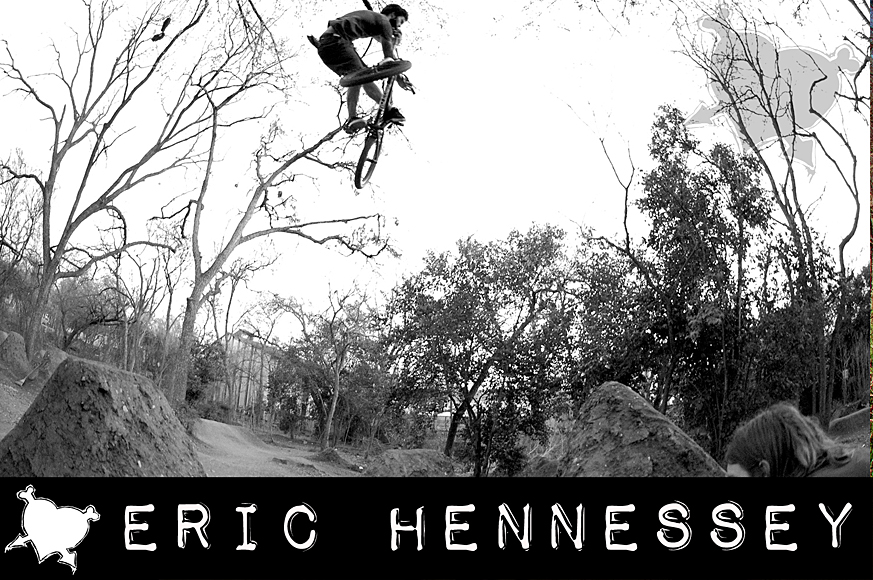 Checktrails.com is proud to announce this interview with the guy, who decided to live his life different way than others. 12 months of year on road, cruising US in his school bus, seeking for any kind of adventure, riding some bicycle motocross here and there and most of all: enjoying the life to the fullest. Ladies and gentlemen, Eric Hennessey.
Name:Eric Hennessey
Age: 27
Home town: Webster, Massachusetts
Sponsors: FBM, Circuit BMX
 1. When and how it happened you started riding bmx?
I grew up racing motocross. At the races, we all had BMX bikes and would carve jumps into the jumps on the track. We didn't know anything about bmx. we just tried to do dirt bike tricks on our bmx bikes. Then i bought "seek and destroy" and I guess that was when I started riding BMX.
2. Who was your biggest influence in the beginning and what riders you watched?
Kris Bennett, Mike Aitken, Jeremy McGrath.
3. How was your BMX scene growing up?
We were the closest group of friends in that town. It was perfect.
4. You ride for FBM, how that came?
My friend Vic at CircuitBMX got me a frame through the shop. I went on trips with them for a bit and i guess thats it. One day i went on the FBM website and it said i was on the team. I never really talked to Crandall about it.
5. If it is not secret, how it is with sponsorship at FBM. You are in pro team, does it mean full material support, full gas tank of your bus when you need, plane ticket for trip time to time or paycheck every two weeks?
I don't want BMX to be my job. Riding BMX for a paycheck just doesn't interest me. I love riding bikes….. but It's just riding a bike. I just want an opportunity to travel, see amazing sites, and meet great people. FBM helps make that possible for us.
6. Who is the craziest person at FBM?
John Lee.
7. What frame do you ride and what TT length?
I ride a 21″ GYPSY. They welded the brakes on the chainstays for me.
8. Do you care about weight of your bike?
I never really think about it. I don't want my bike light. I want it strong and Solid. Even if i ran the heaviest parts anyone makes now, My bike will still be 15 pounds lighter than the bike i grew up riding.
9. Trailsrule.com blog is truly awesome, when and why did you start it? How did you figured out the name?
I started it 5 years ago. I called it Trailsrule because i love trails. The site doesn't really have anything to do with trails though. I just use it to document my travels.
10. What keeps you being motivated to post updates almost every day?
I enjoy doing it. I like keeping track of what i do so i can look back at it later and enjoy it again. I also do it for my Family and friends.
11. What do you like to ride at most, trails?
I grew up hitting jumps, but i wouldn't consider myself a "trail rider". I'm more interested in who i am riding my bike with, not what i'm riding my bike on. I have just as much fun riding a curb with my friends as i do riding the trails with my friends.
12. Do you have your own trails spot or you feel yourself being local here and there?
I don't have my own trails anymore. I have been traveling so much that I just try and help wherever I am. Cumby feels like home. Thats where my friends back home dig.
13. Top 5 trails spots in Henny book?
Posh, Eastside, Cumby, Panamoka, Bakers Acres.
14. What trail riders do you admire?
The ones that build trails.
15. I know you travel a lot. How many months of year are you on the road?
I am on the road for 12 months of the year. I live in a school bus and have no permanent residence. I just go with the flow. Home is where you make it. Thank you everyone that has let me crash on their couches, floors, yards….
16. Favorite destination?
The North East. Always.
17. A place you definitely want to visit someday?
I don't think i could break it down to one place. My next big trip will be exploring Europe.
18. Tell me about your bus.
The bus is a 1993 GMC Diesel Mini school bus with over 200,000 miles on the road. It drives slow but i like it that way. I bought it off of a friend of mine that used it for a non-profit organization called "books on wheels". I dialed in the inside and started living in it. It's been almost 2 years.
19. Any final words?
" Go confidently in the direction of your dreams. Live the life YOU have imagined" – Henry David Thoreau.
And here some pictures of Eric Hennessey I found on internet or on his blog, that in my opinion fit to this dude pretty much. Cheers.